This five-day Institute is designed for newer educational consultants who want to learn more about managing and promoting a business, working effectively with students and families, building a knowledge of the wide range of options available to students, and establishing a professional, competent, and ethical practice.
IECA 2020

Virtual

Summer Training Institute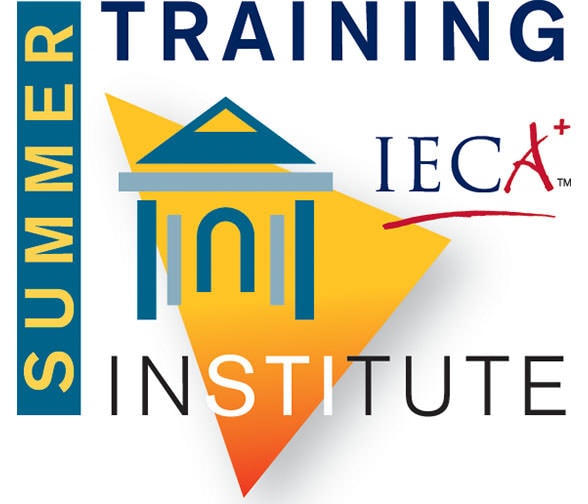 AN EXCITING ANNOUNCEMENT:
We are excited to announce that we are transitioning the 2020 IECA Summer Training Institute to an interactive and engaging virtual event this summer, due to the safety concerns resulting from the COVID-19 global pandemic.
Dates:  Monday, July 27—Friday, July 31, 2020
The Virtual Summer Training Institute (STI) will include a wide variety of interactive sessions to assist you in becoming an efficient and effective independent educational consultant (IEC). Topics will include issues relevant for all new IECs, such as Marketing, Communications, Liability Issues, Ethics, and Business Planning. The institute will also offer electives that dive deeper into the various specialty areas: college consulting, school consulting (K-12 day/boarding schools), and therapeutic consulting (therapeutic schools/treatment centers for students with mental health, emotional, and/or behavioral issues). Participants will receive all materials for all sessions, regardless of which you may choose to attend.
We will also provide time for you to gather in small discussion groups during the week so you will have the opportunity to video chat with others, including those close to you regionally, as well as those with similar interests including working with student athletes or performing arts students, or thinking of creating a non-profit consulting practice or discussing a specific software program. Let us know your interest and we'll create a time and space for you to make those connections with like-minded participants.
The week will consist of both large group sessions and small group discussions, along with many opportunities to network and connect with other participants and the STI 2020 faculty.
WHO SHOULD ATTEND
The 2020 Virtual Summer Training Institute (STI) is designed for those who are in the early stages of working as an independent educational consultant (IEC), and for those who are considering becoming an IEC. Whether you are just beginning to think about joining the profession or have been in business for a year or two and seeing clients on a limited basis, STI will help to set you up for success so that you can fully engage in and enjoy your work.
FEE
The fee for the IECA Virtual Summer Training Institute will be $975 (IECA Professional and Associate members receive a discounted rate of $875).
FAQ
What will the schedule include?
The virtual 5-day program will consist of a mix of specially prepared recorded and live learning, in both large and small groups, all led by our faculty of IECA members who are eager to meet and work with you. Over the course of one day of the program you may be asked to:
View a webinar (created exclusively for the STI Class of 2020 by our faculty), and then participate in a live video session with that faculty member for additional teaching and live Q&A.
Read case studies in preparation for a live discussion session to be held later in the week.
Listen to a podcast so that we can discuss it together in a small group video chat.
Meet with your assigned discussion group of 8-12 participants, facilitated by a faculty member, to discuss what you are learning and share ideas for your own practices.
Work independently on a specific aspect or two of your business plan that will be part of the curriculum for the week.
Meet at the end of every day with the entire group to wrap up the day with a full faculty Q&A session so you will get answers to all of your questions throughout the week.
What materials will be provided?
While all presentations and handouts will be provided to you electronically, we will also ship our much-acclaimed large notebook to you approximately 2 weeks prior to the Institute. This includes course materials for the week, as well as a lot of additional resources that can be used long after our week together is over.
Do I have to be an IECA member to attend?
No, in fact many participants attend STI to help them meet the qualifications to apply for IECA associate membership shortly after the Institute, since completion of the virtual Institute will still satisfy the "one year minimum experience in educational placement counseling or admissions" criterion for associate membership. Please contact Caitlin Myers, our Membership Associate, if you have questions about applying for membership: [email protected] or 703-591-4850 ext. 6974.
If I am applying for IECA Associate or Professional membership now, should I wait for my membership to be approved before I apply to attend STI?
No, you should apply now to ensure a space is available for you. If you become an IECA Associate or Professional member prior to the start of STI, you will receive the discounted member rate of $875 for STI. If you have already paid in full for STI, the $100 difference will be applied towards your annual membership dues.
Are continuing education (CE) credits available?
IECA will offer all participants continuing education (CE) credits at no additional cost (these are helpful to anyone who needs CE hours to renew licenses or certifications). More information will be provided at the Institute.
Will participants receive a certificate?
We will provide all participants with a certificate of completion approximately 6 weeks after the Institute.
---
Hear first-hand what it's like to attend STI from an attendee:
STI 2020 Sponsors: